Choosing the right email address – Email etiquette for students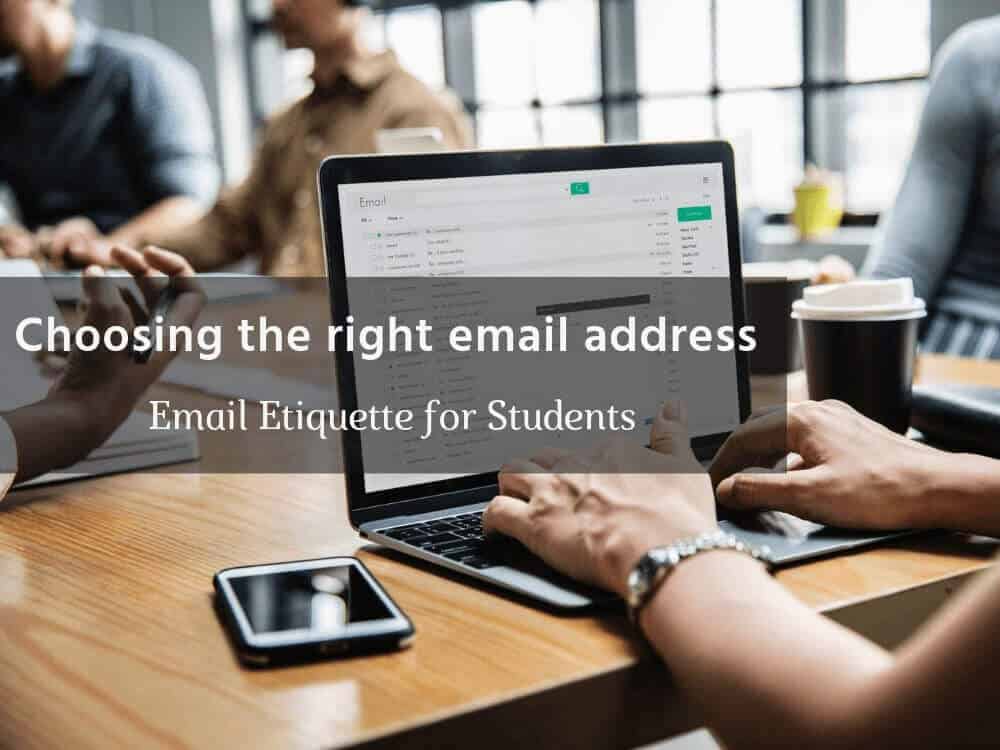 Over the years, I've seen a lot of email addresses through various event registration databases, and the emails I received. Most students use to submit their resume or application using an unprofessional email address which can have a have seriously unfortunate effects on their job search. Whenever you create a new address, think of it as your online identity and how it sounds in 10-15 years. Think about what it says about you are as a person and a professional. Below are some of my observations and recommendations.
Don't use a Pet/Nick names

It's unprofessional to use your pet/nicknames called by your parents or friends as the username of your email address. Instead, try to use your official names as per certificates and government IDs. Your employer and professional connections will be remembering your names as per your resume or official name only.It will make difficult for them to figure out you in case of any need.

Avoid cutesy

Have seen many email addresses with a prefix or suffix like cool, sweet, lovely, rocking, angel etc. A cute email address may seem clever in your friend's circle, but it can send the wrong message to your connections.

Include your full name

Some people like to use just their first/last name alone as username along with some digits. Try to include your full name as there will be many Ramees and it is very difficult to identify whom mail id ramees003@domain.com belongs to. If your name is too long, then it is recommended to make it short in a suitable way.

Don't use year of birth

Many times, you may have to apply, achieve or accomplish something big that might not be meant for students or of your age category. In such cases it should be your email content reveals your maturity and it is not good to reveal your age there.

Exclude numbers

If you ever end up in a situation where you need to share your email address with someone but they can't it write it down, they're likely not going to remember any numbers. It will badly affect you if you use numbers like 143, 007 and similar in email addresses in a resume submitted for jobs where you will be highly professional in the career objective part.

Don't use your Place/Family name

It really makes discomfort for the people of a different language to pronounce, remember or spell the names. It should be easy to read and tell people in a venue or on a phone. Also avoid references to race, creed, gender, religion, or particularly wild things in your username.

Don't use your College/Department name

Many peoples create their first email from their college and use their college/department name when they find it difficult to get a username on their real name after multiple tries. You belong to your college or department for only a few years and later these will become irrelevant. Keep away email addresses like rameespec@domain.com or rameescse@domain.com

Avoid using modified spellings

I have seen some people modify their spelling to claim the username. This looks like you have created your address in desperation. rameez@domain.com while I can't claim ramees.

Try to not includes symbols

Some peoples use periods or under scrolls between the first name and last name as without it would have already claimed in email providers except Gmail (In Gmail, email to mohammed.ramees@gmail.com and mohammedramees@gmail.com goes to the same person and is the same account). Its recommended to claim one without any symbols as in some cases you'll have to hand write the email address in some paper may get misread.

Avoid domains that you think you'll leave within 3 years

I have been part of a student community called Microsoft Student Partner and have got an email address as mohammed.ramees@studentpartner.com. Being proud of the community, I have used that email for many official purposes including job applications and later after graduation, I have lost access to the same. So, keep away such email accounts which you think you will lose access later for any other communications.

Use a separate mail account for signups

Many of the online portals allow you to sign up using your email service provider or social media accounts in just a single click or the ones you may manually sign up where you may get spammed or receive their newsletters thereafter. It's good to use a secondary email account for such signups. So that you can keep your primary account clean with important emails only.

It's not late to change to your new professional email id

If you have already used your existing email id in many places and it feels difficult for you to change. If so, forward all the emails from your old account to the newly created and uses the new one hereafter.

Try a different service provider

There is a less chance that you will get your desired username in popular services like Gmail. In that cases, you can try choosing less used services like outlook which have recently introduced having username username@outlook.in. And there is a great chance of getting one of your choices.

Use your own domain

This is the best of all options and a secret tool to brand yourself and impress your employer. Buy a domain on your name like www.yourdomain.com and configure a mail account like mail@yourname.com. A custom domain is a mark of professionalism and highlights you among others and will be easy to remember.